Learn how to create talent pipelines with organizations and alumni around the globe that are scale-able to support internships, career education, project-based work, and full-time opportunities.  Learning Outcomes: Create opportunities for employer engagement that are low-cost and high-impact; Identify ways to incorporate multiple stakeholder needs to create buy-in and build internal partnerships; Model a career wellness mindset to position students for success in an ongoing changing landscape


___________________________________________________________________________________________________


ABOUT THE PRESENTER(S)


Jeannie Liakaris, Assistant Dean, NYUSPS Wasserman Center for Career Development
Bio: Jeannie Liakaris is an assistant dean overseeing career development at NYU School of Professional Studies with students from across the globe representing over 90 countries pursuing specialized undergraduate and graduate degrees. She was hired to create the NYU SPS Wasserman Center for Career Development to expand opportunities for a global and diverse student body at NYUSPS. She works closely with students, employers, faculty and alumni to build global talent pipelines with a focus on career wellness. She and her team have hosted hundreds of workshops on career management topics in partnership with employers and faculty to ensure students are empowered to manage their careers beyond first destination outcomes.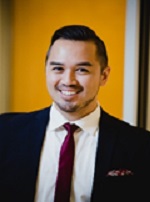 Edwin Raagas, Associate Director, NYUSPS Wasserman Center for Career Development

Bio: Edwin Raagas is an associate director and career coach at the NYU Wasserman Center for Career Development at the NYU School of Professional Studies. Some of Edwin's focus areas (in addition to working with all SPS students) include faculty engagement, global employer engagement, marketing and communications, and non-credit career development. Edwin is a career changer, with his prior experience having been primarily in event marketing and brand management; he has worked for the New York Stock Exchange, CME Group, and a digital marketing agency in Australia.